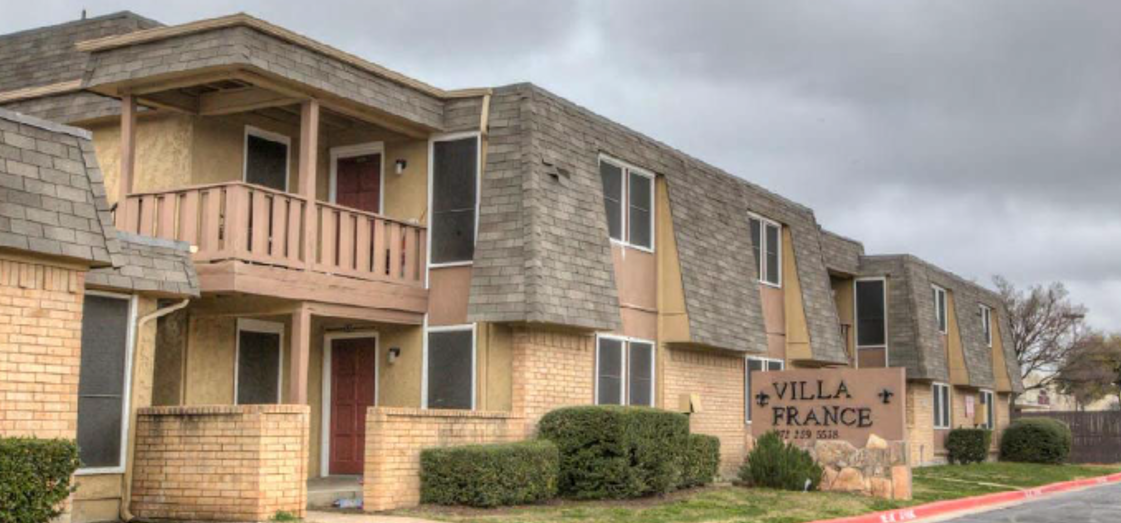 Multifamily
Villa France Apartments
Irving, TX
INVESTMENT STRATEGY
Value-Add
Offered By Paladin Preferred Capital
*Please carefully review the Disclaimers section below, including regarding Sponsor's assumptions and target returns
Management
Paladin Preferred Capital
The sponsor is a joint venture between Steve Bram (Principal, George Smith Partners) and Paladin Preferred Capital. Paladin is a Private Equity firm specializing in the acquisition, management and re-positioning of carefully selected, value add commercial & residential real estate. Paladin is a subsidiary of Los Angeles based BRC Advisors, Inc., a well-recognized, fully integrated real estate company with 100+ commercial agents, as well as vertically integrated property management and leasing divisions (#1 in Beverly Hills). For equity investors, Paladin's focus is on acquiring multi-family and student housing properties valued between $3M - $10M in quality locations. They specifically source properties that require a value-add component such as upgrades to the asset, increases in occupancy or rent levels and greater operational efficiencies. These properties are generally off-market and are sourced by the extensive BRC Advisors broker network and industry relationships.
http://www.paladinpref.com/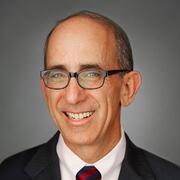 Steve Bram - President of purchasing entity, Principal of George Smith Partners
Steve Bram (Principal, George Smith Partners) is the President and Co‐Founder of George Smith Partners, a nationally recognized real estate mortgage brokerage company. With over 30 years at George Smith Partners, Steve has arranged for more than $3 billion of financing in over 200 transactions including all types of construction, bridge and permanent financing on commercial and residential properties, along with highly complex structured financing including mezzanine, preferred equity, and equity placements.
Steve has utilized his outstanding lender relationships to provide creatively structured financing for his clients. He is also a recognized specialist in the area of hotel financing. He has been involved in over 30 hospitality related transactions totaling $350 million in the last 10 years.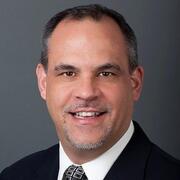 Rich Enderlin - Chief Operating Officer of purchasing entity, Chief Operating Officer of Paladin Preferred Capital
Richard Enderlin became a Managing Partner of BRC Advisors in 2007 after merging his successfully run boutique brokerage firm, Papoulias Enderlin Commercial Real Estate from 2004-07. Mr. Enderlin is the COO of BRC's real estate syndication joint venture with Bellaire REIT. Prior to joining BRC, he was with Prudential Commercial Real Estate as a Senior Investment Associate from 2000-2004 where he was awarded the Chairman's Circle Award which is the highest honor possible in four of his five years with the firm. Mr. Enderlin started his brokerage career with Marcus & Millichap as a Broker Associate in 1990's.
Mr. Enderlin has personally brokered more than 250 transactions worth close to one half billion dollars and is now overseeing BRC Advisors (100+) Brokers as the Broker of Record. Since joining BRC Advisors, Mr. Enderlin has seen the growth of the firm jump from $111,000,000 in sales to over $400,000,000 in 2012. He has also highly integrated in BRC's expansion to (5) offices in Los Angeles County and he has active real estate broker's licenses in California, Arizona and Nevada.
Prior to transitioning into brokerage, Mr. Enderlin worked in property management for 15 years. He was asked to join the transition management team for Donald Trump in his acquisition of the Plaza Hotel in New York City in 1988. He also worked for Harry Macklowe at the Macklowe Hotel in mid-town Manhattan (now the Broadway Millenium Hotel). He returned to Southern California in 1991 when Investors' Property Services, asked him to oversee a portfolio of hotels and apartment buildings that were in Receivership. Mr. Enderlin became a turnaround specialist taking underperforming properties, rehabbing them, increasing occupancy and assisting in the disposition of those assets as they became stabilized.
Mr. Enderlin attended Long Beach State and San Diego State Universities before receiving his Bachelor's Degree in Business Administration from Pace University in New York City in 1987. He is currently the Associate Chairman on the Board of Trustees for Alverno High School in Sierra Madre, CA.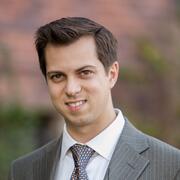 Aaron Weisman - Managing Director of purchasing entity, Managing Partner of Paladin Preferred Capital
Aaron Weisman is a real estate investment professional with over 14 years of experience including construction, property management, investment property brokerage, REIT investment, and syndication.
Aaron began his real estate career in Los Angeles in 2001 as a Junior Associate with Robert Ives & Associates, a Beverly Hills based real estate development firm. In 2004, he joined one of the top producing brokerage teams in Los Angeles at Marcus & Millichap as a Senior Real Estate Analyst. In that capacity he underwrote several hundred million dollars of multifamily, mixed use, retail, office and development properties in Southern California. In 2009, Aaron started to purchase properties as a principal and began syndicating properties on a national basis. In 2014, he relocated to Dallas, Texas to focus on acquiring multifamily properties in the Dallas Fort Worth Metroplex. Since moving to Dallas, Aaron has purchased five multifamily properties.
Property
At A Glance
| | |
| --- | --- |
| Investment Strategy: | Buy and Hold |
| Hold Period: | 5 years |
| Total Project Budget: | $6,842,000 ($51,060 per unit) |
| Acquisition Price: | $6,200,000 ($46,269 per unit) |
| Property Type: | Multifamily |
| Number of Units: | 134 units |
| Distributions to Realty Mogul 39, LLC: | 8% preferred return with excess ​cash flow and appreciation shared 80/20 |
| Projected IRR: | 16.1% |
| Projected Avg Cash on Cash: | 9.1% |
| Projected Equity Multiple: | 1.95x |
| Projected First Distribution: | 11/15/2015 |
| Distribution Schedule: | Quarterly |
| Investor Funding Deadline: | 8/21/2015 |
| Estimated Closing Date: | 9/14/2015 |
Investment Details
Paladin Preferred Capital (the "Sponsor" or "Paladin") plans to acquire the Property, a 134-unit apartment community located in Irving, TX.
The Sponsor has an active presence in the Dallas metro area and sourced this opportunity through existing relationships before it was publicly marketed.
The Sponsor plans to complete renovations at Villa France to optimize rental rates while closely monitoring residents' willingness to pay for such property upgrades. 35% of the units at Villa France have been upgraded thus far and the sponsor is planning to renovate the additional 87 units which have not been renovated yet at a cost of approximately $3,500 per unit. In addition, the building is currently "All Bills Paid" where the Landlord pays all utilities but units are individually metered. The opportunity to pass utility expenses on to tenants is another core aspect of the sponsors operating plan. The combination of unit upgrades and utility reimbursements is projected to lead to $110-160 in increased rent per unit. ​
Based on property and market occupancy levels, the Sponsor feels that there is upside potential on in-place rents even without any rehab work.
The property has a larger average unit size and lower average rent per square foot compared to similar buildings in the area, and amenities include a playground area, swimming pool and community BBQs.
Investment Highlights
Potential for rent increases based on light rehab and utility pass through.
Strong occupancy; the building is currently 100% occupied and neighboring apartment buildings have high occupancy as well.
Central location between two growing cities.
Favorable Basis Compared to Recent Comparable Trades in the Market​.
Unit size is superior to that of the comp set and rent per square foot is below that of the comp set.
Loan is fully amortizing; debt pay down and tax benefits (depreciation and expenses) of owning real estate can enhance investor returns.
Risk Factors*
Forward-Looking Statements: Investors should not rely on any forward-looking statements made regarding this opportunity, because such statements are inherently uncertain and involve risks. We use words such as "anticipated," "projected", "forecasted", "estimated", "prospective", "believes," "expects," "plans" "future" "intends,", "should," "can", "could", "might", "potential," "continue," "may," "will," and similar expressions to identify these forward-looking statements.
Illiquid Investment - Transfer Restrictions & No Public Market: The transferability of membership interests in Realty Mogul 39, LLC are restricted both by the operating agreement for that entity and by U.S. federal and state securities laws. In general, investors will not be able to sell or transfer their interests. There is also no public market for the investment interests and none is expected to be available in the future. Persons should not invest if they require any of their investment to be liquid. This is particularly important for persons of retirement age, who should plan carefully to assure that their assets last throughout retirement.
Sponsor Risk: The Sponsor is a recently formed entity. The owners of the Sponsor are Steve Bram (who is also a principal with George Smith Partners Inc.) and Paladin Preferred Capital. While the owners of the Sponsor (or their principals) have significant operating experience, this is the first entity owned by the particular owners of the Sponsor. The Sponsor, as a recently formed entity, does not have an established track record of investment returns or effective management.
New Development: There is risk associated with potential new development and the impact it would have on the Property's operations.
Uncertainty Surrounding Future Sales Price: There is risk associated with the Sponsor being unable to sell the Property as projected.
Rising Interest Rates: The Federal Reserve has methodically reduced the amount of stimulus it was earlier injecting into the U.S. economy, and has signaled that increases in the federal funds rate may be forthcoming. This could potentially lead to rising interest rates offered by other lenders and could have an effect on the future value of the Property (since higher loan interest rates might mean that potential buyers would face proportionately higher debt service expenses). The interest rate of the projected debt financing that will be used to acquire the loan is also variable, so debt service payments during the hold will rise or fall in line with the movements of market interest rates. There is a risk that interest rates may rise faster than what has been projected in the Sponsor's underwriting, which could lead to a reduction in net cash flow compared with the Sponsor's projections.
Mortgage Risk and Prepayment Penalty: The Sponsor has a signed loan application with a lender to provide the debt financing for the acquisition of the Property, but there can be no assurance that the lender will complete financing on the rates and terms included in the underwriting being presented in the model for this investment opportunity. Should the terms of the debt financing change materially and adversely, investors will be notified. If the debt financing does not close as anticipated and the Sponsor needs an extension on the purchase contract, the seller of the Property may not so extend and the transaction may be canceled. The lender's due diligence may result in modifications of the proposed terms indicated in the executed loan application, which may result in the transaction being canceled. The Sponsor expects that the loan used to acquire the Property will be subject to a prepayment penalty; a shorter than expected hold period would increase the risk of a prepayment penalty being assessed.
Management Risk: Investors will be relying solely on the manager of Villa France Apartment, LLC for the execution of its business plan. That manager in turn may rely on other key personnel with relevant experience and knowledge, including contractors and consultants. Members of Villa France Apartment, LLC (including Realty Mogul 39, LLC) will agree to indemnify the manager in certain circumstances, which may result in a financial burden if any litigation results from the execution of the business plan. While the manager of Villa France Apartment, LLC has significant operating experience, Villa France Apartment, LLC was recently formed and has no significant operating history or record of performance.
Manager of Realty Mogul 39, LLC Will Participate in Sponsor's Promote Interest: The manager of Realty Mogul 39, LLC (or one of its affiliates) will be entitled to a participation in the value of any excess distributable cash flow and any appreciation of the Property realized upon its sale. This could lead to a potential conflict of interest between the manager and Realty Mogul 39, LLC. Investors must recognize and agree to waive and bear the risk of this conflict of interest. Realty Mogul 39, LLC itself is pursuing a venture capital strategy through investments in operating companies that manage and develop real estate; under this strategy, the manager of Realty Mogul 39, LLC is expected to be treated as an investment adviser exempt from federal or state registration.
Uncertain Distributions: The manager of Villa France Apartment, LLC cannot offer any assurances that there will be sufficient cash available to make distributions to its members (including Realty Mogul 39, LLC) from either net cash from operations or proceeds from the sale of the asset. That manager, in its discretion, may retain any portion of such funds for property operations or capital improvements.
Risk of Interest Charges or Dilution for Capital Calls: The amount of capital that may be required by Villa France Apartment, LLC from Realty Mogul 39, LLC is unknown, and although Villa France Apartment, LLC does not require that its members contribute additional capital to it, it may from time to time request additional funds in the form of additional capital. Realty Mogul 39, LLC does not intend to participate in a capital call if one is requested by Villa France Apartment, LLC and in such event the Manager of Villa France Apartment, LLC may accept additional contributions from other members of Villa France Apartment, LLC Amounts that the manager or other members of Villa France Apartment, LLC advances on behalf of Realty Mogul 39, LLC will be deemed to be either a loan at an interest rate of 10% or an additional capital contribution, in which case Realty Mogul 39, LLC's interest in Villa France Apartment, LLC will suffer a proportionate amount of dilution.
General Economic and Market Risks: While the Sponsor has conducted significant research to justify the intended rental rates and sales price relative to comparable properties in the market, there can be no assurance that investor sentiment will be favorable, or that purchase financing to a buyer will be readily available, when the Sponsor attempts to sell the Property. The real estate market is affected by many factors, such as general economic conditions, supply and demand for real estate investments, interest rates, the availability of financing, and other factors, all of which are beyond the control of both RealtyMogul.com and Oak Harbor Investors, LLC.
*The above is not intended to be a full discussion of all the risks of this investment. Please see the Risk Factors in the Investor Document Package for a discussion of additional risks.
Address:
1831 W. Pioneer Dr., Irving TX 75061
Year Built:
1970
Property Type:
Multifamily
Number of Units:
134 units
Occupancy:
100%
Major Amenities:
Pool & Playground
Community BBQs
Walk In Closets & Fire Places
Some Units Have Balconies
Laundry Room
Irving is the 13th largest city in Texas on a population basis and is part of the Dallas / Fort Worth Metroplex. The Dallas Fort Worth International Airport is located in the city of Irving. Irving is also home to Las Colinas, the first master planned community in the United States. Las Colinas encompasses 12,000 acres and is home to many Fortune 500, Fortune 1000 and large privately held corporations, such as Exxon Mobil, Flour Corporation, Kimberly Clark, Toyota Motors, OMNI Resorts, La Quinta Inns, Chuck e' Cheese, Zales, Microsoft, Citigroup, Verizon and Allstate. Las Colinas also includes the Irving Convention Center and the Four Seasons Resort & Las Colinas Golf Course, home to the annual AT&T Byron Nelson Championship, a PGA Tour event. In addition to the economic drivers located within the city of Irving, its central proximity to downtown Dallas, neighboring Dallas Love Field Airport and the city of Arlington make Irving an ideal location to live for families and professionals.
Irving's superb location at the center of the metro and a low cost of living appeal to many renters. Strong employment growth and increased enrollment at the University of Dallas are the key drivers of demand in Irving. With virtually no new supply added to the submarket in over a decade, vacancy rates have fallen precipitously from their recessionary peak and rent growth has been solid, averaging nearly 4% annually over the last three years.[i]
Dallas/Fort Worth Apartment Overview
Though slumping oil prices have tempered momentum, the Metroplex's vacancy is at historically low levels. Thousands of luxury apartments are slated for completion this year, specifically in the Intown Dallas, Oak Lawn/Park Cities and Richardson submarkets, where several companies are relocating and expanding. Financial services firms including State Farm, TD Ameritrade and Liberty Mutual are growing in northwest Dallas and plan to add thousands of jobs over the next few years, helping to drive the development of these new multifamily projects. While office leasing is translating to strong professional job growth, the Metroplex's industrial sector is one of the nation's strongest. The rise of e-commerce is fueling industrial construction, and hiring in distribution, logistics and transportation throughout is supporting stronger operations and rent growth in Class C properties.[ii]
[i] Costar Portfolio Strategy, 6/8/2015
[ii] Marcus & Millichap, Dallas/Fort Worth apartment research report. Q1/2015