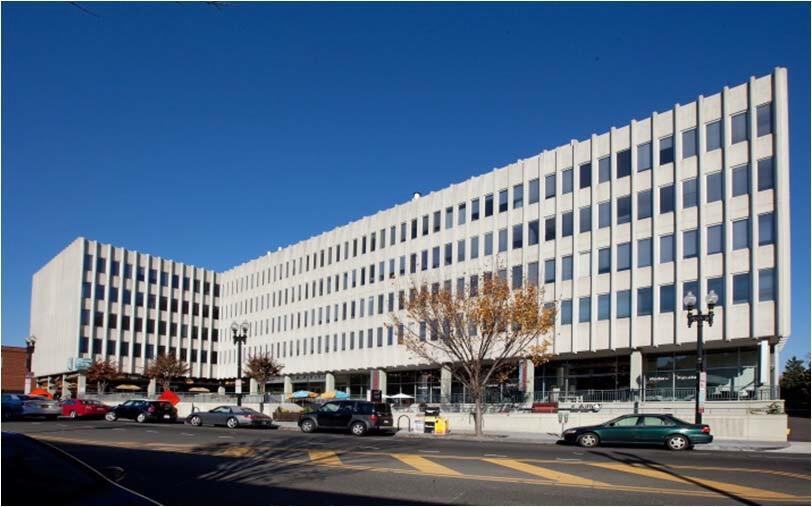 Office
Georgetown Plaza #2
Washington, DC
Management

JOSS Realty Partners, LLC
JOSS is a private owner/operator-focused real estate investment management firm headquartered in New York City. Since inception in 2005, JOSS has acquired 17 office assets totaling over 2.75 million square feet with a value in excess of $750 million. JOSS owns BMS Real Estate Services LLC, an affiliated property management company with over 1.2 million square feet of office under management.
JOSS was founded in 2005 by former SL Green, Fortress, and Broadway Partners executives with over 50 years combined experience encompassing real estate operating, financing, and public company expertise. JOSS has experience with fund management (PJSC-JOSS Real Estate Partners I, LLC) and owns a portfolio of office assets in prime CBD locations. JOSS utilizes a hands-on approach to property management, asset management, leasing and construction management.
Sample Holdings (Active and Realized)
| Property | Location | SF | Purchase Date | Sale Date | Purchase Price | Sale Price |
| --- | --- | --- | --- | --- | --- | --- |
| 1776 Massachusetts Ave | Washington, DC | 92,924 | July 2005 | May 2012 | $34,500,000 | $45,500,000 |
| 2131 K St | Washington, DC | 87,924 | October 2005 | December 2011 | $20,200,000 | $28,800,000 |
| 1129 20th Street | Washington, DC | 127,445 | January 2006 | February 2007 | $43,300,000 | $61,800,000 |
| 1400 Eye Street | Washington, DC | 175,127 | May 2006 | November 2011 | $41,500,000 | $58,500,000 |
| 4201 Connecticut Ave | Washington, DC | 71,821 | October 2007 | November 2014 | $17,000,000 | $23,100,000 |
| | Total - Washington, DC | 555,241 | | | $156,500,000 | $217,700,000 |
| | | | | | | |
| 42 South 15th St | Philadelphia, PA | 137,042 | May 2005 | October 2007 | $11,400,000 | $16,800,000 |
| 230 South Broad St | Philadelphia, PA | 212,299 | May 2005 | Pending | $21,000,000 | $32,000,000 |
| 9th & Samson (Sheridan) | Philadelphia, PA | 97,500 | July 2006 | Pending | $8,700,000 | $16,000,000 |
| | Total - Philadelphia, PA | 446,841 | | | $41,100,000 | $64,800,000 |
| | | | | | | |
| 229-239 West 28th St | New York, NY | 153,913 | May 2007 | March 2014 | $48,600,000 | $81,500,000 |
| | Total - New York, NY | 153,913 | | | $48,600,000 | $81,500,000 |
| | | | | | | |
| | Total - All Locations | 1,155,995 | | | $246,200,000 | $364,000,000 |
Their wholly-owned property management affiliate, BMS Real Estate Services ("BMS"), manages a portfolio of 14 assets encompassing over 1.2 million square feet primarily in the Washington, DC metro area. BMS currently has 27 employees and includes property and construction management, with a vertically integrated platform with a strong focus on operations and value creation.
http://jrpllc.com/
Larry Botel - Founding Partner, JOSS Realty Partners, LLC
Mr. Botel co-founded JOSS Realty Partners in 2005. Since inception JOSS has acquired 17 office assets totaling over 2.75 million square feet with a value in excess of $750 million. Prior to JOSS, Mr. Botel spent three years as the Chief Operating Officer at Broadway Partners, where he oversaw all operations, staffing, asset management and underwriting activities. Mr. Botel directed Broadway from a sole proprietorship with limited operating capability to a full service real estate investment company owning 3.6 million square feet of commercial office space valued at over $850 million. He underwrote, negotiated and closed over $1 billion in office building acquisitions and recapitalizations, managed 1 million square feet of leasing and oversaw all property activities and capital projects. Mr. Botel launched and oversaw Broadway Real Estate Services, an affiliated property management firm. From 1997 to 1999 Mr. Botel was a Vice President and Head of Real Estate at Fortress Investment Group / UBS Global Principal Group / BlackRock Capital Finance. He oversaw all commercial real estate asset management and underwriting activities for multiple portfolios of debt and equity assets. Mr. Botel managed a team of five professionals in three opportunistic real estate investment funds totaling $3 billion in equity and over 30 transactions in the United States, Canada, and Europe. He underwrote, negotiated, and closed over $1 billion in property and mortgage loan acquisitions, over $500 million in distressed mortgage loan resolutions, and over $1 billion in portfolio financings/securitizations. Mr. Botel also managed equity and loan portfolios comprising over 4 million square feet and 5,000 apartment units. Mr. Botel held previous positions at Mutual of New York Real Estate and Prudential Realty Group. Mr. Botel received his M.B.A. from the University of Chicago Graduate School of Business, in 1993 and B.S.B.A from Georgetown University in 1988.
Ameet Amin - Principal, JOSS Realty Partners, LLC
Mr. Amin is a Principal at JOSS Realty Partners. As the Head of Acquisitions, Mr. Amin is responsible for the identification and evaluation of new investments. Since joining in 2007 he has purchased, financed, managed and sold over $750 million of commercial real estate across 17 single property investments totaling over 2.5 million square feet. Mr. Amin oversees the sourcing, negotiation, underwriting and execution of principal investments and plays a central role in capital raising and executing joint ventures, recapitalizations and dispositions. Prior to joining JOSS, Mr. Amin served as Deputy Chief Operating Officer of U.S. Investment Banking at Deutsche Bank where he helped the division double its fee market share and grow return on equity by 40%. Prior to joining Deutsche Bank in 2003, Mr. Amin was an investment banker in the Financial Institutions Mergers & Acquisitions groups at Lazard and Wasserstein Perella & Co., where he was involved in over $10 billion of M&A transactions. Mr. Amin received his M.B.A from Columbia Business School and his B.B.A. from the University of Michigan Business School.
Larry McCulley - Founding Partner, BMS Realty Services
A real estate professional with more than 30 years of experience in the Washington area, Larry McCulley oversees property management and construction management services for BMS Realty Services. Mr. McCulley is highly regarded in the region for his expertise in overseeing commercial properties with a focus on the owner's perspective – streamlining operations, attracting and retaining tenants and enhancing long-term property value. Mr. McCulley manages BMS Realty's property management teams, including staff focused on operations, maintenance, accounting, and financial reporting. His leadership has resulted in BMS Realty's distinctive track record in serving building owners such as the National Football League Players Association for many years, as well as managing properties such as the landmark Washington Harbour long-term through multiple owners. Prior to establishing BMS Realty Services in 1999, Mr. McCulley worked with Jones Lang LaSalle, where he served as director of property management and managed more than 2.5 million square feet of space. Today, Mr. McCulley provides active, hands-on oversight of several commercial properties, providing day-to-day management, operations planning, long-term capital planning, implementation of sustainable practices and construction management/owner representation for tenant build-outs and renovations.
Property
At A Glance
| | |
| --- | --- |
| Investment Strategy: | Buy and Hold |
| Hold Period: | 2 years |
| Total Project Budget: | $31,500,000 |
| Property Type: | Office |
| Net Rentable Area: | 150,097 square feet |
| Cap Rate (Year 1): | 8.3% |
| Distributions to Realty Mogul 19, LLC: | 8% preferred return followed by a return of capital contributions, and then a 50/50 catch-up (50% to investors, 50% to sponsor) until the sponsor has received 25% of all distributable profits, with excess cash flows and appreciation split 75/25 split (75% to investors, 25% to sponsor) |
| Projected RM Investor IRR: | 24.7% |
| Projected RM Investor Cash on Cash (Avg): | 4.7% |
| Projected RM Investor Equity Multiple: | 1.54x |
| Projected First Distribution: | August 2015 |
| Distribution Schedule: | Quarterly |
| Investor Funding Deadline: | March 6, 2015 |
| Estimated Closing Date: | March 13, 2015 |
Investment Details
JOSS Realty Partners ("JOSS") plans to recapitalize and continue with the repositioning of Georgetown Plaza ("the Property"), a 150,097 square foot Class B office building located in the Georgetown neighborhood of Washington, DC. The property is located in less than one mile from Georgetown University's main campus and provides a desirable location for a diverse tenant base in a supply-constrained submarket. Realty Mogul investors are being provided the opportunity to invest in Realty Mogul 19, LLC. Realty Mogul 19, LLC earlier made an investment, and will now be making a follow-on investment, in 2233 Wisconsin NY Member LLC, which will hold the leasehold interest in Georgetown Plaza.
A leasehold interest is an interest in real property, often referred to as a "ground lease", in which the property owner grants the leasehold interest holder the right to occupy and use the land for a defined period of time. After that period of time expires, the interest in the land and all improvements to the land reverts back to the land owner. The expiration of the current leasehold is 91 years with an expiration on October 1, 2105.
JOSS will handle all aspects of the investment including recapitalizing the property, completing a strategic property upgrade and leasing program, and ultimately selling the property. They will be responsible for improving the appeal of the property to current and prospective tenants with an investment of capital into amenities and common area upgrades as well as a tenant inducement package. The Property was under-managed by prior ownership because it was a non-core holding, providing the opportunity for JOSS's improvement plan to potentially increase both occupancy levels and the average rental income per square foot at Georgetown Plaza to bring it in line with comparable properties in the market.
JOSS plans on holding the Property for two additional years before exiting the investment, although the hold period could be longer or shorter. Realty Mogul investors have the opportunity to participate as equity stakeholders and earn a share of the cash-flow and appreciation. Investors can expect to receive quarterly updates and quarterly distributions, with the first distribution expected 60 days after the first full calendar quarter post-closing expected in August 2015.
This transaction represents a unique opportunity to participate in the recapitalization of a well-located office property in close proximity to a large and expanding university at the same cost basis as when the Property was acquired in July 2014. The Sponsor has made progress under its business plan and the Property is currently outperforming the Sponsor's original projections.
Investment Highlights
Favorable Acquisition Cost Basis Providing Downside Protection: The original purchase price of $179 psf represents a going-in yield of 8.3% (based on year one NOI), a stabilized yield of 9.1% (based on year two NOI) and a discount to both replacement cost and recent office sales in Washington, DC. With an estimated value of the ground lease at $100 psf, the Property's $279 psf implied fee simple (properties that are not on a ground lease) purchase price is well below the average price of recent Class B office sales of $476 psf in downtown Washington, DC. The 8.3% going-in cap rate is in excess of market trades, making this a compelling investment given its location in Washington, DC.
Outperforming Original Leasing Projections: The Sponsor has increased occupancy from 79% to 82% since acquisition with the execution of a 4,116 square foot lease to an investment advisory business. They are also nearing the execution of a lease for 7,420 square feet of space located in the lower level retail portion of the Property. The Sponsor did not project leasing this space in their original projections. Upon execution, this lease should bring occupancy up to 88%, well above the 82% the Sponsor originally projected reaching over that time span. The Sponsor earlier did not project the Property to reach 88% occupancy until the third quarter of 2015. Additionally, the Sponsor has executed several lease renewals and extensions at rates equal to or surpassing those originally projected.
Potential Upside Through Renovation and Lease-Up: The Property's current occupancy of 82%, and 88% occupancy should the street level lease be completed, are both well below the Property's primary competitors (2115 Wisconsin Ave., 2121 Wisconsin Ave. and 2201 Wisconsin Ave.) which are at or above 90% occupancy. The Property was a non-core holding in the previous owner's portfolio, but was a niche play for JOSS, which has a track record of repositioning class B office assets in Washington, D.C. JOSS is investing in amenity-driven and common area upgrades while offering tenant inducement packages to improve occupancy and rents. Georgetown Plaza serves as a logical location for Georgetown University to expand as an owner/occupier as the university is currently fully occupied. The University is space constrained, making expansion and possible acquisition of Georgetown Plaza a logical choice in the future.
Supply Constrained Micro Market with High Demand: Georgetown Plaza is one of only a few properties in the area offering a value alternative for small tenants seeking a Washington, D.C. address with downtown access at a discount to downtown rental prices. Its proximity to Georgetown University makes it particularly attractive to several key tenants; the Property serves as a satellite location for Georgetown University and MedStar Health, two of the area's largest tenants and each of whom require office space convenient to Georgetown University's main campus (which is fully occupied) and hospital located less than one mile away​
Experienced Sponsorship:

JOSS is a private owner/operator real estate investment management firm headquartered in New York City. Since its inception in 2005, JOSS has acquired 17 office assets totaling over 2.75 million square feet with a value in excess of $750 million. JOSS also owns BMS Real Estate Services LLC, an affiliated property management company with over 1,500,000 square feet of office space currently under management.
Risks and Risk Mitigation*
Forward-Looking Statements: Investors should not rely on any forward-looking statements made regarding this opportunity, because such statements are inherently uncertain and involve risks. We use words such as "anticipated," "projected," "forecasted," "estimated," "prospective," "believes," "expects," "plans," "future," "intends," "should," "can," "could," "might," "potential," "continue," "may," "will," and similar expressions to identify these forward-looking statements.
Illiquid Investment - Transfer Restrictions & No Public Market: The transferability of membership interests in Realty Mogul 19, LLC are restricted both by the operating agreement for that entity and by U.S. federal and state securities laws. In general, investors will not be able to sell or transfer their interests. There is also no public market for the investment interests and none is expected to be available in the future. Persons should not invest if they require any of their investment to be liquid. This is particularly important for persons of retirement age, who should plan carefully to assure that their assets last throughout retirement.
Poor Metro Access: The location suffers from poor Metro access with the nearest Metro stops (Dupont Circle and Foggy Bottom) 20 minutes away on foot. However, the Property's above standard parking ratio and 89 surface spaces help to offset the poor Metro access. Also, the Property is situated along the daily Circulator and 30, 32, 34, 35 and 36 Metrobus routes, which provide access to downtown Washington and north along Wisconsin Avenue into Maryland. In addition, the supply constrained micro-market has no new planned office development. Both Georgetown University and Hospital are land constrained on their respective campuses.
Historically Unbalanced Leasing Environment: Against the backdrop of government spending uncertainty, the current leasing market, which is relatively favorable for tenants may extend for a prolonged period of time. However, JOSS has contemplated high tenant inducement costs in its underwriting ($55-60 psf, which compares favorably to the $45-50 psf that the previous owner had been offering), even as Washington D.C. vacancy rates are at or near cyclical lows. Georgetown Plaza is well capitalized to attract and retain tenants with above average inducement costs (if necessary) throughout the investment period and may outperform expectations as negotiating power between landlords and tenants re-balances. Furthermore, with pro forma rents starting in the low $30's per square foot gross rent, the Property will maintain its status as the low cost provider of suburban office space in Washington, DC.
Lease Up of Vacant Space: There is a risk that the leasing team will be unable to lease up the vacancy in the building. This would have an impact on future cash flow and projected value for the property. This risk is partially mitigated by an experienced leasing team as JOSS has retained Cushman & Wakefield, one of the major leasing firms in Washington DC. The team has launched a new marketing campaign with a strong focus on branding while also creating a website to facilitate leasing at the Property. Since taking the assignment, they have increased the occupancy at the Property from 79% to 82% by executing a 4,116 square foot lease to an investment advisory business, along with several renewals / extensions. Additionally, although there can be no assurance of its consummation, the Sponsor expects to execute a lease for 7,420 square feet located in the lower level retail space. Several other new and renewal leases are also out for review.
Local Market Conditions May Impact Rental Rates: Local conditions may significantly affect occupancy, rental rates, and the operating performance of a property. Such risks include (but are not limited to): (i) plant closings, industry slowdowns and other facts that affect the local economy; (ii) an oversupply of, or a reduced demand for, similar properties; (iii) a decline in household formation or employment or lack of employment growth, (iv) laws that could inhibit the ability to raise rents or to sell a property; and (v) other economic conditions that might cause an increase in operating expenses, such as increases in property taxes, utilities, compensation of on-site personnel and routine maintenance.
Management Risk: Investors will be relying solely on the manager of 2233 Wisconsin NY Member LLC for the execution of its business plan. That manager in turn may rely on other key personnel with relevant experience and knowledge, including contractors and consultants. Members of 2233 Wisconsin NY Member LLC (including Realty Mogul 19, LLC) will agree to indemnify the manager in certain circumstances, which may result in a financial burden if any litigation results from the execution of the business plan. While the manager of 2233 Wisconsin NY Member LLC has significant operating experience, 2233 Wisconsin NY Member LLC is a newly formed company and has no operating history or record of performance. Realty Mogul 19, LLC has no voting rights or ability to remove the manager of 2233 Wisconsin NY Member LLC. Realty Mogul 19, LLC is pursuing a venture capital strategy through an investment in an operating company that manages and develops real estate; RM Manager, LLC, the manager of Realty Mogul 19, LLC, is expected to be treated as an investment adviser exempt from federal or state registration under this strategy.
Rising Interest Rates: The Federal Reserve has announced plans over time to methodically reduce the amount of stimulus it would inject into the U.S. economy. This could potentially lead to rising interest rates and have an effect on the future value of the property. This risk will be partially mitigated because JOSS has purchased interest rate protection upfront for the three year term. This risk is also partially mitigated by the steadily increasing rental rates and income for the property that should be beneficial in offsetting the effects of future interest rate increases.
High Leverage: At closing this transaction employed high leverage (77.8%), which may increase the risk of default on the debt. The lender is requiring a minimum debt yield of 7.0%, which is equivalent to $1.72 million based on a total funding of $24.5 million. Based on the proforma provided by JOSS, projected debt yields for years 1 and 2 are 9.1% and 9.2%, respectively, allowing for over 200 bps of downside protection in debt yield if projections are not met.
Ground Lease: A ground lease is typically defined as the lease of land for a relatively long term (e.g., 50 to 99 years), where all expenses of the property are the obligation of the tenant (e.g., taxes, repair and maintenance expenses, insurance costs, and financing costs). A tenant's leasehold interest under a ground lease may be considered a "diminishing asset" in that the value and marketability of the project will diminish as the end of the term nears. This risk is partially mitigated by the fact that the property is subject to a 91-year ground lease. According to JOSS, ground lease structures are common for the area and the ground lessors were very easy to work with.
Risk of Interest Charges or Dilution for Capital Calls: The amount of capital that may be required by 2233 Wisconsin NY Member LLC from Realty Mogul 19, LLC is unknown, and although 2233 Wisconsin NY Member LLC does not require that its members contribute additional capital to it, it may from time to time request additional funds in the form of additional capital. Realty Mogul 19, LLC does not intend to participate in a capital call if one is requested by 2233 Wisconsin NY Member LLC and in such event the Manager of 2233 Wisconsin NY Member LLC may accept additional contributions from other members of 2233 Wisconsin NY Member LLC. Amounts that the Manager and/or the contributing members of 2233 Wisconsin NY Member LLC advance on behalf of the Company will be deemed to be member loans at an interest rate of 18% or to be additional capital contributions. In the case they are deemed to be additional capital contributions, Realty Mogul 19, LLC's interest in 2233 Wisconsin NY Member LLC will suffer a proportionate amount of dilution.
Uncertain Distributions: The manager of 2233 Wisconsin NY Member LLC cannot offer any assurances that there will be sufficient cash available to make distributions to its members (including Realty Mogul 19, LLC) from either net cash from operations or proceeds from the sale of the asset. That manager, in its discretion, may retain any portion of such funds for tenant improvements, tenant refurbishments and other lease-up costs or for working capital reserves.
General Economic and Market Risks: While JOSS has conducted significant research to justify the intended rental rates and sales price relative to comparable properties in the market, its best efforts to forecast economic conditions cannot state for certain whether or not investor sentiment and the capital markets will be favorable to the property at the intended disposition date. The real estate market is affected by many factors, such as general economic conditions, the availability of financing, interest rates and other factors, including supply and demand for real estate investments, all of which are beyond the control of the manager of 2233 Wisconsin NY Member LLC.
*The above is not intended to be a full discussion of all the risks of this investment. Please see the Risk Factors in the Investor Document Package for a discussion of additional risks.
Address:
2233 Wisconsin Avenue NW
Washington, DC 20016
Submarket:
Uptown
Year Built / Renovated:
1964 / 2007
Floors:
5 (above grade)
Current Occupancy:
82%
Net Rentable Area:
150,097 square feet
Parking:
276 stalls (89 surface and 187 below grade spaces)
1.84 spaces per 1,000 square feet of rentable area
Typical Floor Plate:
28,600 square feet

Property Highlights
The building is configured with 28,600 square foot floor plates, which accommodates flexibility on multi-tenant layouts.
Floor configuration and four sides of glass maximizes corner units with views of National Cathedral, Rock Creek Park and the Washington Monument.
Four sides of glass provides for abundant light, a high proportion of windowed offices, and views over Washington, DC.
The property enjoys convenient access to the CBD, Georgetown, Suburban Maryland, and Northern Virginia.
There are two entrances to the lobby via Wisconsin Avenue and the surface parking lot.
Building has above standard parking - 187 below grade and 89 surface spaces (1.8 per 1,000 sf).
Over 20,000 square feet of retail space, and casual co-tenant eateries includes Einstein Bros. Bagels and Breadsoda.
The building's Energy Star rating provides an attractive certification for tenants and lower utility costs.
Major Tenants
​​Children's National Medical Center
​Suite 317 - 17,165 square feet
Expiration: April 2018 / Occupied since 2008
The Mid-Atlantic Center for Children's Health and the Environment (MACCHE) is one of ten pediatric environmental health specialty units in the US. Based at Children's National Medical Center, the Mid-Atlantic Center's services are available at no cost to those who live and work in Washington, DC, Maryland, Pennsylvania, Virginia, Delaware, and West Virginia. MACCHE, is dedicated to informing health professionals, parents, caregivers, and concerned citizens about children and their specific needs and risks associated with environmental health.
MedStar-Georgetown Medical Center
​Suite 500 - 8,971 square feet
Expiration: July 2017 / Occupied since 2012
MedStar Georgetown's centers of excellence include neurosciences, transplant, cancer and gastroenterology. Along with Magnet nurses, internationally recognized physicians, advanced research and cutting-edge technologies, MedStar Georgetown's healthcare professionals have a reputation for medical excellence and leadership.
Maslow Media Group
​Suite 400 - 8,412 square feet
Expiration: April 2018 / occupied since 2008
The Maslow Media Group (MMG) was founded in 1988 as the first full service Production Staffing, Crewing, Payroll, and Video Production Agency in the country. It was established by producer, Linda Maslow, who saw the need for a centralized resource to provide qualified production crews to the Television, Cable, and Multimedia industry with a quick turnaround. MMG is a 100% Small Woman-Owned Business with a WBE Certification and is headquartered in Washington, DC, providing services worldwide. MMG's clientele includes Corporate Media Departments, Federal & Local Government Agencies, and the Broadcast, Cable and Multimedia industry.
Georgetown Plaza is situated in the Glover Park neighborhood, a 24/7 urban community that caters to a mix of families and young professionals. It is located within walking distance to Georgetown, a neighborhood with a distinctive retail corridor offering residents and visitors over 250,000 square feet of retail opportunities. Additional amenities include three major hotels, five parks, hiking trails and over 25 restaurants.
The recently completed Wisconsin Avenue streetscape project implemented a broad range of improvements such as wider sidewalks with ADA wheelchair ramps, curb extensions, new left turn lanes, upgraded streetlights and new street signs. An 81-unit residential project adjacent to the building is set to deliver in 2015, and area residents have an average household income of over $138,000.
Amenity Highlights
Three major hotels, five parks, hiking trails and 250,000 SF of retail space located within a two mile radius.
Whole Foods and approximately 25 restaurants within walking distance from the building.
Fifteen minutes to Ronald Reagan National Airport, ten minutes to the White House and five minutes to Georgetown University.
Availability of Capital Bikeshare and multiple bus routes that travel through the neighborhood.
Washington, DC Overview
The market information below is provided by the Society for Human Resource Management Metro Economic Outlook: Washington, D.C.
Washington, DC has remained a strong economy, although the region has begun to rely more heavily on its professional and business services sector as federal government spending continues to decline. As of December 2014, the DC metro area, which includes the surrounding suburbs in Maryland, Virginia and West Virginia, had an unemployment rate of 4.5% and a median household income of $90,149, compared to the national averages of 5.6% and $52,250, respectively. The region's workforce is expected to add 236,900 jobs from 2014-2019, with the bulk of those new jobs coming not from the government but from professional and business services, construction, education and health services, and hospitality services. The DC metro area also boasts one of the most educated populations in the nation, with 25.3% of adults ages 25+ holding a bachelor's degree and 23.3% of adults ages 25+ holding a graduate or professional degree.
Office Market
The market information below is provided by the Cushman & Wakefield ​Q4 2014 Marketbeat Office Snapshot, Washington, D.C.
A number of market indicators ended 2014 on a positive note, pointing to increased stabilization in the D.C. market. The Washington, DC office market consists of 107 million square feet of office space divided between seven submarkets. For the first time since 2011, overall vacancy has decreased year-over-year, ending 2014 at 13.0% and marking a 1.4 percentage point (pp) dip from the end of 2013. Overall vacancy for class B space stands at 13.9% dropping by 1.3 pp year-over-year. 2014 began with a historically high amount of space on the market, but small to mid-sized pockets of growth chipped away at vacant blocks, resulting in just under 1.0 million square feet (msf) of positive overall net absorption for the year. Overall leasing activity in 2014 was strong with 4.7 msf of new deals signed. New leasing reflected a more diversified tenant base active in the District with seven of the ten largest leases being from the private sector, and increasingly stable fundamentals point to a more accelerated recovery and growth on the horizon.
Uptown Submarket
The Uptown submarket contains 3.8 million square feet of office space, consisting primarily of mid-rise buildings along Wisconsin and Connecticut Avenues, the District's two main thoroughfares connecting suburban Maryland to downtown Washington. Limited space and high barriers to entry have severely constrained the office supply in this segment of the Washington market. In the past 15 years, the Uptown submarket has delivered just two buildings totaling 346,000 square feet and completed in 1999 and 2013 (1825 Connecticut Avenue NW and 641 S Street NW) – both renovations. Strong tenant demand exists in this market due to its healthy mix of office, residential and retail space, as well as its unsurpassed location. The submarket provides easy access to the West End/Georgetown, CBD and East End submarkets in downtown Washington, and points throughout Northern Virginia and Suburban Maryland. Bedroom communities in Bethesda and Chevy Chase, Maryland are easily accessible, making Uptown an attractive location for executives. Additionally, Metrorail's Redline runs throughout this submarket with stations in Friendship Heights and Tenleytown along Wisconsin Avenue and Cleveland Park, Van Ness-UDC and Woodley Park/Adams Morgan along Connecticut Avenue. There is an abundance of walkable retail space in this submarket, totaling 6 million square feet and consisting of restaurants, specialty shops, service retail and entertainment venues.
Uptown's tenant base varies greatly from Fortune 500 companies to local media outlets, smaller non-profit organizations, boutique law firms and medical office users. This diverse tenant base is one of the primary reasons that Uptown's fundamentals remain solid, as a variety of industries drive leasing in this submarket. Given the market's location, accessibility and amenity base, tenants who choose Uptown typically remain there. Fannie Mae is the largest tenant in the Uptown submarket occupying nearly 700,000 square feet in several buildings both leased and owned. The Academy for Educational Development leases more than 200,000 square feet at 1875 Connecticut Avenue, NW.