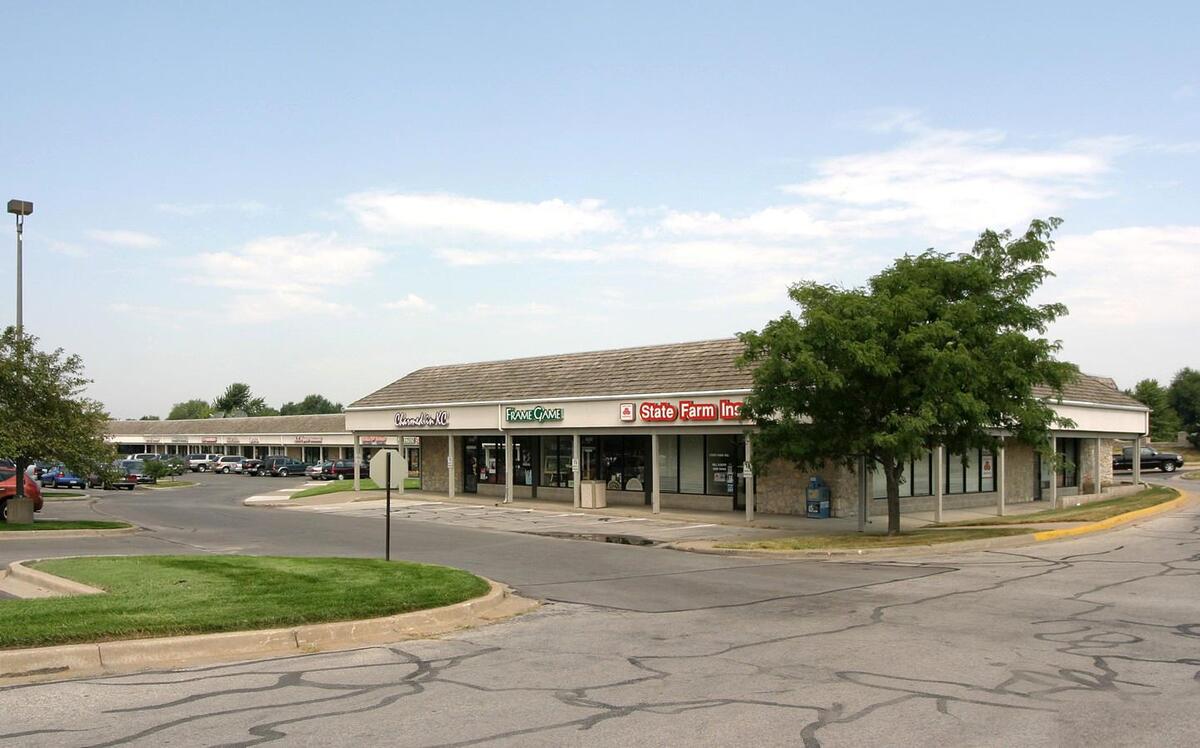 Retail
Greystone Shopping Center
Lenexa, KS
INVESTMENT STRATEGY
Value-Add
Offered By Block Real Estate Services
*Please carefully review the Disclaimers section below, including regarding Sponsor's assumptions and target returns
Management

Block Real Estate Services
Block Real Estate Services, LLC ("Block") is a full-service commercial real estate company managing over 22 million square feet of retail, office, and industrial properties for equity partnerships and third party owners. Block's portfolio of services continues its role as the most comprehensive commercial real estate firm in Kansas City by providing and specializing in: real estate brokerage services, tenant representation, investment services, asset and property management, economic incentives consultation, financial services, construction and development services, and the Block Funds.
Block is headquartered in the heart of Kansas City's Country Club Plaza district with regional offices in St. Louis and Atlanta. Block also has management offices in properties located in Overland Park and Lenexa, Kansas; Riverside and St. Louis, Missouri as well as operation offices in several of our office portfolio properties. For more than 70 years, Block principals and their partnerships have leased, bought, sold and managed properties in over 200 cities across 38 states.
Block is currently ranked in the following journals:
Kansas City Business Journal
#1 Commercial real estate property manager—managing over 21 million gross leasable square feet—managing industrial, office and retail
#1 Most active commercial real estate firm with 676 transactions
#2 Commercial real estate company with 60 real estate agents
#19 Top area general contractors with $7.3 million in local billings (Block Construction Services)
St. Louis Business Journal
#16 Largest commercial real estate firm, based on number of local active licensed agents (Block Hawley)
National Real Estate Investor
Ranked 23rd for total industrial space developed or under construction of 600,000 square feet
Ranked 23rd for total office space developed or under construction of 600,000 square feet
Commercial Property Executive
Ranked 34th nationally for top property manager
Ranked 36th most powerful owners in the country
Ranked 27th in the CPE-MHE most powerful owners listing
Midwest Real Estate News
Ranked 9th in top owners in the Midwest
Ranked 13th in top brokers in the Midwest
Ingram's
#1 Top area commercial real estate company for $696 million gross sales
#1 Top area commercial real estate company for square footage managed/sold/leased
www.blockllc.com
Property
At A Glance
Investment Strategy:
Buy and Hold
Hold Period:
5-10 years
Total Project Budget:
$6,525,000
Property Type:
Retail
Net Rentable Area:
62,917 square feet (current)
65,837 square feet (post renovation)
Distributions to
Realty Mogul 8, LLC:
95/5 split on all cash flows and appreciation (learn more)
Investment Details
Block Real Estate Services ("Block") plans to acquire Greystone South Shopping Center ("Greystone") in Lenexa, Kansas through GDC, LLC, an entity managed by Stephen Block, a principal of Block Real Estate Services. Realty Mogul investors are being afforded the opportunity to invest in Realty Mogul 8, LLC, which will then invest directly into GDC, LLC.
Greystone has been a strong asset for several decades. In recent years, the property has been owned and managed by an out-of-town investor who has not reinvested in the property or maintained an active leasing presence in the market. Consequently, occupancy has declined in recent years to 74.1% in a market where average occupancy levels are approximately 90%.
Block has identified Greystone as an opportunity to purchase a distressed asset and complete physical, managerial and leasing improvements in order to generate a return for investors. Block plans to operate the property for cash flow while implementing an extensive redevelopment program aimed at substantially increasing rental income through modernizing the existing space, expanding the total rentable area, and attracting new tenants to lease the currently vacant space at significantly higher rates than current rental rates at Greystone.
Block is the dominant real estate operator in the region and has successfully secured a number of unique public incentives that will improve projected returns. These incentives include the ability to charge a special 1% sales tax within Greystone, which will be paid to Block as reimbursements for approximately $1,000,000 of planned physical improvements that Block will complete at Greystone. The city will also provide a zero-interest development grant of $350,000 to help fund the property improvements, which will be paid back after all investors, including Realty Mogul 8, LLC, receive a 12% cumulative return. In addition, the city has identified Greystone as a Neighborhood Redevelopment District project, a status that allows the project to capture 100% of any increases in real estate taxes over the base year (2014) for a 10-year period.
Block plans on holding the property for 5-10 years before exiting the investment but the hold period may be longer or shorter. Realty Mogul 8, LLC investors have the opportunity to participate as equity stakeholders in a property with existing, in place cash flow that also offers value-add potential through a strategic renovation and expansion program.
Investment Highlights
Strong Sponsorship: The investment is being sponsored by Block Real Estate Services. Block, its principals, and their partnerships have leased, bought, sold and managed properties in over 200 cities across 38 states.​ They are the largest commercial real estate owner and developer in the City of Lenexa as well as the largest commercial management and brokerage firm in the Kansas City metro area, allowing them to leverage their existing relationships and experience to substantially increase occupancy and profitability at Greystone from current levels.
Opportunity for Immediate Value Creation Through Active Management and Leasing: While Greystone has been a strong asset for decades, the center has suffered in recent years due to a lack of property maintenance and insufficient leasing efforts from an out-of-town owner who has not reinvested in the property or maintained an active leasing presence in the market. As a result, Greystone is currently 74% occupied while the average occupancy rate in the market is roughly 90%. Block will provide management and leasing services at Greystone. As the largest commercial management and brokerage firm in the Kansas City Metro, Block will streamline operations and utilize its extensive tenant relationships to increase occupancy at Greystone.
Potential for Significant Rental Rate Increases: Due to the condition of the property and lack of leasing oversight, current rental rates at Greystone average $9.12 per square foot, compared to an average lease rate in Johnson County of $14.00 per square foot. This represents a discount to comparable market leases in the area of approximately 35%. Block's lease-up projections are consistent with current market rents, but Block believes that there is potential for rental rate increases after the property is physically improved and professionally leased.
Discount to Replacement Cost: Block estimates that the replacement cost for similar shopping centers is between $180 and $200 per square foot. Greystone's purchase price of $3.7 million or $58.97 per square foot represents a significant discount of approximately 60% to replacement cost.
Rapid Debt Paydown: The loan used to acquire the project and construct the new building will be amortized over a 15-year term. This will enhance investor returns and reduce risk over time.
Existing Redevelopment/Expansion Plans: Block plans to demolish the existing office building on the southeast quadrant of the site and build a new retail building in its place. The total project cost includes the construction of a new 6,500 square foot retail building on the site with a configuration that would improve the visibility of the existing center. This newer building will expand the overall rentable square footage of Greystone and is anticipated to allow Block to secure higher rents for the newer building than currently attainable at the existing office building. The new building is planned be done on a build-to-suit basis upon entering into a lease with a qualified tenant. If offered the right price, one alternative would be to sell the pad site and recognize an immediate return on equity.
Limited Sale Marketing: Greystone was marketed by a small St. Louis brokerage firm. This firm is not well-acquainted with a large number of potential buyers in the Kansas City market and lacks the bandwidth to complete a national marketing campaign. The investor offering featured a two-page flyer without investor highlights or financial information, making it difficult for potential buyers to evaluate the opportunity. Block spent considerable time interacting with the owner and manager to obtain sufficient information to assess the property before making an offer. Ultimately, the lack of exposure and available information limited the buyer pool, allowing Block to negotiate directly and obtain the best pricing.
A Package of Unique and Attractive Public Incentives: Block is the largest commercial real estate owner and developer in the City of Lenexa. Consequently, Block has utilized its extensive relationships with city officials to obtain a package of public incentives to improve returns to investors. This package includes the following:

Neighborhood Redevelopment District Status (NRD): The city will grant NRD status to the project. This will allow the project to capture 100% of any increase in real property taxes over the base year (1/1/2014) for a 10-year period. Block anticipates that this will amount to approximately $385,000 over a 10-year period.
Community Improvement District Revenue (CID): Of the $1.9 million of planned physical improvements, approximately $1.0 million is eligible for reimbursement through a CID. An additional sales tax of 1.0% will be charged to tenants at Greystone, which will be paid to Block as reimbursement for these costs over the hold period. Block estimates that $971,000 of improvements and interest will be recovered over the hold period. If sales exceed the projections, the reimbursed amount will be higher. Through CID reimbursements, the actual cost of the roughly $1.9 million in planned capital expenditures that will be invested to improve, modernize and expand the shopping center over the life of the project is projected to be reduced by more than 50%. Additionally, if the property is sold before the end of the 22-year CID term, any remaining CID income will go with the property and will enhance the potential selling price.
Lenexa Development Grant: The City of Lenexa will provide a zero-interest development grant of $350,000 to Block to help fund the property improvements. Block will repay this grant by paying a percentage of future cash distributions to Lenexa after investors, including Realty Mogul 8, LLC, receive a preferred return equal to 12% of the cumulative cash return.
Risks and Risk Mitigation*
Lease-up of Vacant Space: Given that the retail center is currently 74% leased, there is a risk that the vacant space will be difficult to lease. The low occupancy can be mainly attributed to the fact that the current owner did not reinvest to maintain the property and failed to have a strong local leasing and management presence. Block will provide management and leasing services. As the market's dominant leasing and management service company, Block will utilize its management professionals to streamline operations and its extensive tenant relationships to increase occupancy at Greystone. Furthermore, by significantly improving the property, Greystone will be significantly more attractive to a broader scope of tenants willing to pay higher market rents.
Delays with Potential Redevelopment: In order to increase the center's rentable area and enhance the shopping center's visibility, the current business plan includes demolition of the eastern building and constructing an entirely new structure on the pad site. This plan hinges in part on the compliance of an existing tenant, Merrit Chiropractors, to voluntarily relocate the space that it currently occupies. This is the only tenant that is currently in the building. To increase the likelihood of cooperation from the tenant, Block has already engaged this tenant in conversations to relocate to another space in the center. As a longstanding tenant in Greystone, this tenant has indicated excitement about the prospect of Block's plan to significantly redevelop and upgrade the center and has been receptive to the idea of temporary relocation. Block has factored in providing the tenant with significant financial incentives, including significant money in the form of tenant improvements, to vacate the space. Although the tenant's cooperation is not guaranteed, Block believes that the tenant is strongly incentivized to do so. In the event the tenant chooses not to relocate, the tenant has the option to stay in its current space for as long as the next three (3) years. If this occurs, Block will have the ability to postpone drawing down on the $800,000 construction loan currently being set aside for the demolition and reconstruction of the eastern building without incurring any penalty from the lender and proceed with the remainder of the redevelopment plan.
Rising Interest Rates: Over the past few years, the retail investment market has been bolstered by historically low interest rates, which have continually declined. In the event that interest rates rise, future financing for the property may become less favorable than anticipated. To mitigate the risk of rising interest rates, Block has locked in two 5-year loans at a fixed rate of 4.12%. The two loans total $3.8 million in collective funding, $800,000 of which is earmarked for the demolition and construction of the new building on the eastern pad. Block intends to refinance the loans after the redevelopment is complete and the project is stabilized. While Block believes that the redevelopment and stabilization of Greystone will be completed in less than five years, Block currently estimates that a refinancing will take place in year six with a new interest rate of 5.5%.
*The above is not intended to be a full discussion of all the risks of this investment. Please see the Risk Factors in the Investor Document Package for a discussion of additional risks.
Address:
12800-12980 W 87th Street Pkwy
Lenexa, KS 66215
Year Built / Renovated:
1984 / 1990
Current Occupancy:
74.1%
Net Rentable Area:
62,917 square feet (current)
65,837 square feet (post-renovation)
Buildings:
Three one-story buildings
Parking:
265 surface lot spaces
Street Frontage:
663 feet along 87th Street
Daily Traffic Count:
37,000
Current Rent Roll

| TENANT NAME | SQUARE FOOTAGE CURRENTLY LEASED |
| --- | --- |
| Title Boxing | 5,200 |
| Tanner's | 5,140 |
| Scrapbook Unique | 4,422 |
| Tae Kwon Do | 4,384 |
| Jazzercise | 4,056 |
| Cosmo Proof | 3,596 |
| Jagged Edge | 2,800 |
| Chartroose Caboose | 2,600 |
| Frame Game | 1,879 |
| Peach Wave | 1,800 |
| Ester's African Cuisine | 1,600 |
| Merritt Chiropractors | 1,500 |
| Quiznos | 1,400 |
| Farmers Insurance | 1,400 |
| Advance America | 1,400 |
| The Dry Cleaner | 1,400 |
| Massage | 1,032 |
| State Farm | 1,000 |
Greystone is a three building neighborhood retail shopping center situated on a 6.68 acre parcel of land. Two of the three existing buildings composing Greystone were constructed in 1984 and the third was constructed in 1990. The exterior walls of the retail buildings are cinder block structures with masonry veneer with stucco. The roof is wood shingled with wooden truss and a partial metal deck.
Access to the shopping center is provided at several points surrounding from two curbs that cut along 87th Parkway on both the east and west side of the property. The driveway that runs through the shopping center connects to and runs through the adjacent grocery-anchored retail center located directly east of Greystone. It is used regularly by residents use to avoid the traffic on 87th Street and provides for considerable traffic flow in addition to traffic along 87th Street.
Block plans to revitalize the center by completing $1.9 million of capital improvements such as fascia replacement, new LED light fixtures, repainting the property, the replacement of sidewalks, parking surfaces, landscaping, sprinkler system, roofs, doors and frames, and the construction of new parking lot islands and landscaped courtyards.
A current site plan, post-renovation site plan, aerial view of the renovated property, and a 2013 real estate market report on the Kansas City MSA are included as attachments on the right side of this page below the map.
Greystone Shopping Center is located in Lenexa, Kansas a municipality of Johnson County. Lenexa is an affluent suburb of Kansas City, the largest city in the State of Kansas. Greystone is located approximately 12 miles Southwest of Kansas City and less than one mile from Interstate 35 and the Lenexa City Hall.
Kansas City Metropolitan Area Overview
Home to 2.5 million people, Kansas City is a bi-state region which includes the Kansas City MSA, Lawrence and Topeka, Kansas and St. Joseph, Missouri. The Kansas City MSA is one of the fastest growing major job markets in the midwest, fueled by lower business and lifestyle costs than most major metros, a well-educated, extremely productive workforce, and the most geographically central major metro in the country.
Kansas City's economy is recognized as one of the most diverse among the nation's mid-sized cities with no one sector comprising more than 15% of the overall economy. As of July 2012, the Kansas City MSA unemployment rate was 7.5%, below the national average of 8.6% for the same period. Fortune Magazine released its annual list of the 500 biggest U.S. corporations, ranked by revenue, and three Kansas City-area companies made the list, including Sprint Nextel, YRC Worldwide and Seaboard.
In 2011, Kansas City was selected from over 1,100 applicants to be the first Google Fiber community. Seventeen days after the initial announcement regarding Kansas City, Kansas, Google announced the decision to include Kansas City, Missouri, thus offering service to both sides of the state line. Google Fiber provides symmetrical connectivity at approximately one gigabit per second to businesses, government, residents and schools, which is about 100 times faster access than most Americans have. With the Google Fiber up and running, the Kansas City MSA has suddenly become one of the most attractive metropolitan areas in the country for tech start-ups as well as for existing companies to locate operations. With Google's announcement comes the prospect of future economic growth and new job creation.
Johnson County Overview
Johnson County, the most populous county in Kansas, has been the top growth area of Kansas City for the past 50 years, booming in population from 143,576 residents in 1960 to 544,179 residents in 2010.
Johnson County contains four colleges, six hospitals, 10 community centers, 10 museums, 11 airports, 16 libraries, 27 pools or beaches, 28 golf courses, 80 hotels, 97 shopping centers, 231 schools, 351 parks, 1,287 restaurants, 1,639 office properties and more than 170,000 residences.
The county is home to 32% of all jobs in the Kansas City area and 22% of all jobs in the state of Kansas with a private sector payroll of nearly $25 billion. Commercial development has been fueled by business-friendly policies and the area's well connected highway system, including Interstates 35 and 435 as well as Highways 69 and 7. Residential development has been driven by top schools, proximity to employment opportunities and available land for executive housing construction. Johnson County also boasts of one of the nation's best educated work forces, ranking sixth nationally in percentage of residents with a high school diploma and nationally for those holding at least a bachelor's degree.
Lenexa Overview
Lenexa is the ninth-largest city in Kansas, with 48,000 residents. Within three miles of Greystone, the average home value is $214,954 and the median household income is $76,700. Situated about 12 miles southwest of downtown Kansas City at the intersection of Interstates 35 and 435, Lenexa enjoys a healthy business community and is considered a city of choice for many high tech and bioscience companies. Growth along the I-435 corridor continued even during the economic slowdown, with companies such as Community America, PRA and Kiewit Power Engineers developing new offices just south of 87th Street along Renner Boulevard.
Lenexa is part of the Shawnee Mission School District (SMSD), a producer of some of the top test scores in the Kansas City area each year. The SMSD features a number of signature programs in fields such as technology, international studies, legal studies, theater and biomedical health science and is a regular recipient of awards at the district, school, teacher and student levels.
Lenexa City Center is a highly anticipated 200-acre mixed use, master planned development located approximately 2.2 miles west of Greystone. The City of Lenexa has provided substantial infrastructure and street improvements to lay the foundation for this development, which has resulted in the headquarters relocation of high tech firms B.E. Smith and Perceptive Software to the project. These additions will bring more than 900 new jobs into 315,000 square feet of office space. Two new multifamily developments have also been announced with plans for more than 750 residential units. These new jobs and residents will increase the demand for local retail services at Greystone.
A strong demographic tailwind, an amenity-rich environment, a pro-business culture, strong schools, easy access and plentiful executive housing are all reasons why Johnson County is highly sought after by institutional, regional and local real estate investors. The location of Greystone capitalizes on all of these factors and provides an excellent outlook for leasing and future disposition.
Retail Market Overview
Limited new retail development and rebounding consumer demand has allowed the retail market fundamentals to stabilize and begin improving. This has propelled several retailers to add Kansas City locations, including IKEA, Scheels Sports, Ross Dress for Less, REI, Fresh Market, Sprouts Farmers Market, Aspen Athletics, Freebirds World Burrito and Pizza Ranch. Other retailers expanding within the market include HomeGoods, Staples, Whole Foods, Dollar General, Papa Murphy's and Firehouse Subs.
Johnson County continues to be Kansas City's top retailer destination. This includes the Oak Park Mall, the largest sales tax generator in the State of Kansas, which is located south of Greystone. A large percentage of disposable income in the area has attracted retailers and institutional investors, helping to support rental rate increases and providing strong buyer demand upon disposition.
Vacancy rate trends in the market over the past years indicate a relatively stabilized retail market with less than 10% vacancy. Greystone's current vacancy rate of over 25% indicates an underperforming asset relative to the surrounding market.